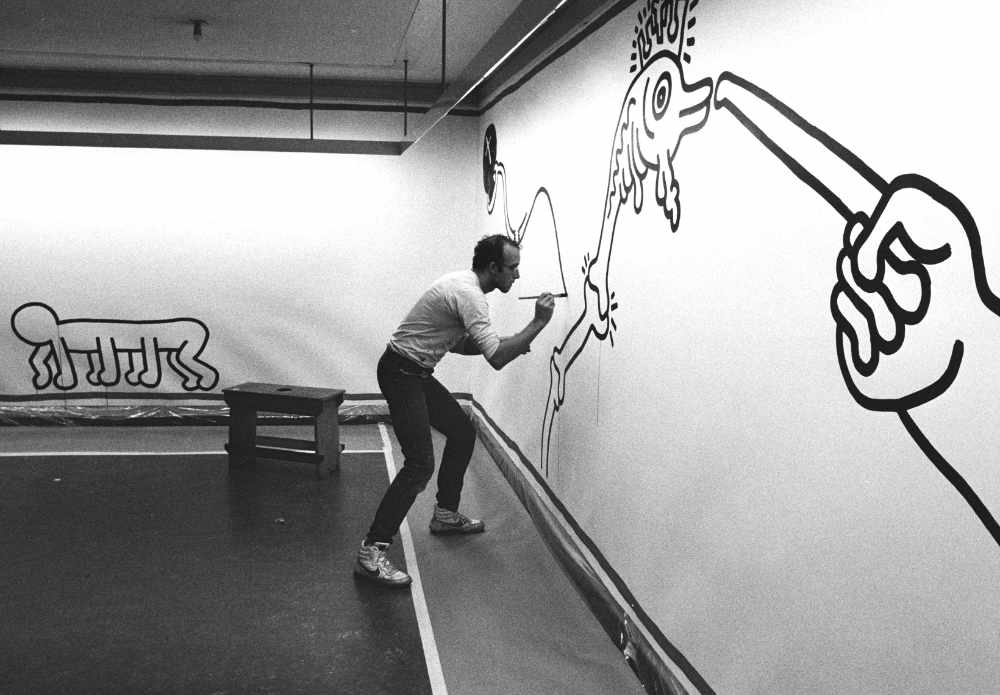 Keith Haring was born in 1958 in Reading, Pennsylvania. Using chalk, he began drawing small, vibrant characters and animals as well as various recognizable symbols such as dazibaos in New York underground. He became known as a member of the graffiti movement in the 1980s.
Throughout his career, he held several humanitarian commitments, notably racism, apartheid, homophobia, discrimination, nuclear and others. In 1984, he began to work in museums and galleries, but still remained attached to his street interventions. He painted on all kinds of supports, whether canvases, walls, fences or bodies.
In 1985, he had his first monographic museum exhibition at the CAPC in Bordeaux. At the same time, he painted 10 huge panels of 7m high and 5m wide representing the 10 commandments. The following year, he opened a shop in Soho to sell his works on t-shirts and postcards. His idea was to spread his works throughout the world and not only in galleries or museums which are not accessible to all. In the same action he thought of the people of the Bronx who could not access his works.
During this year 1986, he also realized a fresco named "Crack is Wack". This last one puts forward the negative effects of the crack. He realized it on the walls of a handball field without authorization. The year 1988 marked a turning point in Haring's life when he learned that he had HIV. He then embarked on a new battle against this disease, using his fame to create the Keith Haring Foundation in 1989. His life ends in 1990 because of his disease at the age of 31 years.
What distinguishes him during his years, contrary to other artists promoting the art of the real, is his advances in this sector in a totally unknown way. Having the objective "to be in the world", his immersion in the real was made in an integral fusional way. His paintings are now part of the general movement of the contemporary art. His style is defined by infinite repetitions of synthetic forms mixing black outlines and bright colors. His inspiration for his characters comes from the drawings of the Nazca desert.

I did not write to you last month, I had nothing new to tell you and could only have repeated myself, and besides I did not have the courage to do so. Then when the letter carrier came a little later, there was again nothing from Chaudet. Since my health is completely restored, and I therefore no longer have a chance of dying a natural death, I wanted to kill myself.
read more »